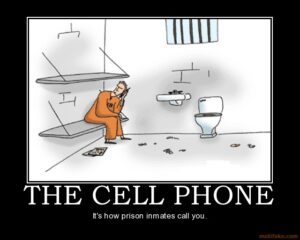 An article discussing the steps the Mississippi DOC is taking to address the supply of contraband cell phones in its prisons. According the Department of Corrections Commissioner Christopher Epps, "Cell phones are the biggest contraband items that we have. It's a national problem in corrections."
The article also discuss the managed access wireless signal jammer installed at the Parchman facility. The system has blocked about 1.8 million illegal cell phone calls and text messages. The system recently was upgraded to manage 3G technology, and a full-time managed access technician has been hired to maintain and monitor it.
The sheer volume of phone calls intercepted speaks to the fact that the vast majority of usage is most likely inmates communicating with family and loved ones. While smuggled cell phones are used for criminal activity, it is clear that a significant percentage, if not most, of the 1.8 million calls intercepted are not made with criminal intent. We believe there is a significant revenue, safety and behavior management opportunity in offering a secure prison cell phone solution to address this unmet desire for enhanced communications with friends and family.
Download our whitepaper to learn how the meshDETECT solution works.
State prisoners caught with cell phones or any cell phone component in Mississippi will soon face harsher punishment.
Loss of six months' trusty time already is among the penalties.
But starting next month, "Zero Privilege Units" will begin at each of the state's three prisons.
Inmates caught with cell phones will lose all privileges. Also, they won't be allowed to purchase items from the commissary, the prison store, and they won't be allowed to use the regular prison phone.
"We realize we have a problem and we are doing something about it," Department of Corrections Commissioner Christopher Epps said. "This will send a strong message."
MDOC's confiscation of at least 3,400 cell phones from inmates and Facebook pages created using smartphones from behind prison walls are behind the increased discipline, despite best efforts to keep cell phones out.
Cell phones are "the biggest contraband items that we have," said Epps, who has been cited nationally for his efforts to prevent illicit use of cell phones in the country's correctional facilities. " It's a national problem in corrections."
Over the last two years, at least two murderers were updating their Facebook pages from behind prison walls in Mississippi using smartphone technology on cellphones smuggled into them.
Last year, MDOC had 70 Facebook pages deactivated.
In October, MDOC officials contacted Facebook's corporate office and asked that murderer Jonathan Davis' account be deactivated.
Until that point, Davis, 27, had been on the page and updating it since he arrived at the State Penitentiary at Parchman in 2004. Davis was convicted of 2002 capital murder in Lauderdale County.
In November 2010, MDOC officials also had another convicted killer's Facebook page deactivated.
William Joseph Hogan, 30, had been corresponding on his Facebook page since he was sent to prison in 2009. Hogan was convicted of the 2008 murder of his wife in DeSoto County. Family members of the victim alerted prison officials to Hogan's Facebook page.
Around the country, there have been reports of inmates using Facebook to contact victims, make sexual advances, or in some cases, to plan crimes.
Facebook spokesman Andrew Noyes has said the social networking site will work with law enforcement and other officials to shut down inmate Facebook pages.
Janice Howard, whose son was killed in 2007, said she applauds Epps' efforts to get cellphones out of the hands of inmates.
"No, they shouldn't have that right. They gave up the right by the crimes they committed," Howard said.
Shawn States, 25, the man who killed Justin Howard and his friend, Antoine Reece, was convicted in 2010 of two counts of capital murder and is serving two life sentences without parole.
In August 2010, MDOC launched the first cell phone detection/management system in the nation at Parchman. The managed access system intercepts all incoming and outgoing cell phone signals and allows prison authorities to manage calls that are not allowed and those that are allowed by pre-entering the allowed cell phone numbers in the system.
Since its installation, the system has blocked about 1.8 million illegal cell phone calls and text message, Epps said. The system recently was upgraded to manage 3G technology, and a full-time managed access technician has been hired to maintain and monitor it.
MDOC is actively working with the vendor to install a manage access system at Central Mississippi Correctional Facility in Pearl and South Mississippi Correctional Institution in Leakesville.
Epps said MDOC has undertaken other efforts to eradicate illegal cell phones, including:
•Weekly searches for WiFi Internet signals at all prisons.
•A body cavity detection system.
•K-9 cell phone detection dogs.
•Hand wand metal detectors.
•Walk-through metal detection systems.
•Increased searches of inmates and staff.
Sen. Hillman Frazier, D-Jackson, has proposed legislation to increase the penalty for providing cell phones to inmates.
Senate Bill 2020, which has been referred to the Corrections Committee, would increase the maximum penalty from 15 years to 20 years.
Brian Byrne is the founder and Managing Partner of Dallas based
meshIP
, a technology services firm offering cloud computing strategies and services. He is an accomplished executive with senior management experience in all facets of the technology, telecom, cloud computing, and SaaS industries. He has proven success in developing, financing and executing strategic plans as well as launching new ventures. His background includes a record of significant achievement in international business development and his credentials include a MBA in Marketing and Management Strategy from the J.L. Kellogg Graduate School of Management at Northwestern University, a MS from the School of Computer Science at DePaul University, and a BBA in Finance from the University of Notre Dame.
He is also the inventor of the patented
meshDETECT
, Secure Prison Cell Phone Solutions.
Like it? Share it!