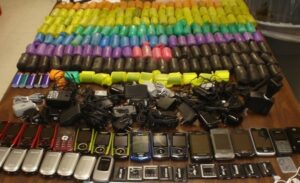 The smuggling of cellphones into California prisons continues, even as the legislation to criminalize contraband cell phone smuggling moves forward in the legislature.
Staff at Avenal State Prison last week found cellphones, cellphone batteries and chargers and tobacco after a sergeant noticed a security fence breach on the south of the facility.
The discovery on Friday came one day after a key legislative committee approved Senate Bill 26, which would criminalize smuggling wireless devices into prison facilities.
According to the Department of Corrections and Rehabilitation, the discovery netted two bags filled with:
• 173 bundles of tobacco weighing approximately 17 pounds
• 25 cellular phones
• 26 cell phone chargers
• 11 cell phone batteries
• 5 cigarette lighters
• 1 pair of cell phone ear-buds
• 3 Micro SD memory cards
SB 26, authored by Sen. Alex Padilla, D-Los Angeles, would make smuggling cellphones or other wireless devices punishable by six months in jail and a fine of up to $5,000 per device. Inmates caught with a device would permanently lose up to 90 days of sentence credits.
The measure also includes language that protects anyone from prosecution who accidentally brings a cellphone into a prison, protects cellphone data from unwarranted inspection by the state and requires that the new inmate phone system contract may not increase the cost of inmate calls.
A committee analysis of the bill notes:
A sample of search results through June 2011 shows 673 searches, resulting in the following contraband: 471 cell phones; 450 flash drives; 125 DVDs; 697 CDs; 110 iPods; 302 lighters or matches; 4,678 miscellaneous contraband objects.
These 673 searches also resulted in 1,156 disciplinary letters of instruction pending review by the warden, and 337 disciplinary referrals to internal affairs.
The Assembly Appropriations Committee approved the measure 17-0 on Thursday, setting the stage for a vote by the full chamber.
Brian Byrne is the founder and Managing Partner of Dallas based
meshIP
, a technology services firm offering cloud computing strategies and services. He is an accomplished executive with senior management experience in all facets of the technology, telecom, cloud computing, and SaaS industries. He has proven success in developing, financing and executing strategic plans as well as launching new ventures. His background includes a record of significant achievement in international business development and his credentials include a MBA in Marketing and Management Strategy from the J.L. Kellogg Graduate School of Management at Northwestern University, a MS from the School of Computer Science at DePaul University, and a BBA in Finance from the University of Notre Dame.
He is also the inventor of the patented
meshDETECT
, Secure Prison Cell Phone Solutions.
Like it? Share it!