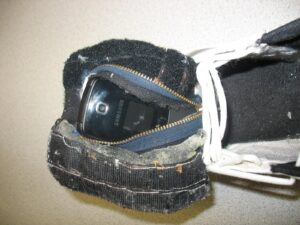 Of course we know that making it illegal will not stop the demand and therefore not stop contraband cell phones from being smuggled into prisons. Only addressing the demand for prison cell phones by providing a secure prison cell phone service will reduce the contraband value of smuggled cell phones.
U.S. Sen. Dianne Feinstein is lobbying to revive a bill that would make it illegal to smuggle cellphones into California prisons.
Currently, it's a violation of prison rules for a prisoner to possess a cellphone, but it is not a crime.
Feinstein sponsored a bill making possession of a cellphone by an inmate in a federal prison punishable by up to a year in prison and a $5,000 fine. Now she is taking on the issue at the state level, pressing California legislative leaders to support a bill by state Sen. Alex Padilla (D-Pacoima) that would do the same.
Legislators put the bill on hold a few weeks ago over fears it would cost too much to enforce. But Feinstein argued for its resuscitation, saying that cellphones in state prison are used to direct drug deals and killings.
"The Mexican Mafia and other gangs are able to operate while in prison through the use of coded internal communications and cellphones," Feinstein wrote in a letter to key committee leaders in the California legislature, who are fellow Democrats.
The number of smuggled cellphones discovered in California prisons has skyrocketed in recent years, from 261 in 2006 to nearly 11,000 last year, according to prison officials.
Brian Byrne is the founder and Managing Partner of Dallas based
meshIP
, a technology services firm offering cloud computing strategies and services. He is an accomplished executive with senior management experience in all facets of the technology, telecom, cloud computing, and SaaS industries. He has proven success in developing, financing and executing strategic plans as well as launching new ventures. His background includes a record of significant achievement in international business development and his credentials include a MBA in Marketing and Management Strategy from the J.L. Kellogg Graduate School of Management at Northwestern University, a MS from the School of Computer Science at DePaul University, and a BBA in Finance from the University of Notre Dame.
He is also the inventor of the patented
meshDETECT
, Secure Prison Cell Phone Solutions.
Like it? Share it!